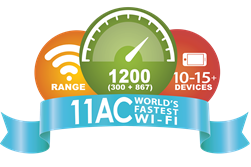 Today's households are connecting more devices to the Internet than ever before – with more and more iPhones, Androids, tablets, and laptops laying around in any given home, it's important that each device gets the speed and coverage it deserves.
By upgrading your current network to Wireless AC, you can immediately enjoy the benefits of faster wireless speeds and increased home coverage – all with less wireless interference so you can enjoy doing what you love most. Delivering Wi-Fi AC1200 dual band speeds with AC SmartBeam technology to your home network, the DIR-860L is the perfect solution for those looking to enjoy multiple HD video streams, fast file transfers, and lag-free video chatting – all with less wireless interference for maximum throughput.  



The fifth generation of Wi-Fi technology, 11AC delivers incredible speed and whole-home coverage — up to three times as fast as current "N" Wi-Fi.  

 

AC1200 Wi-Fi Speeds — Up to 300 + 867Mbps

Simultaneous Dual Band

— Delivers faster speeds with less Wi-Fi interference for maximum throughput


Quality of Service (QoS) – Automatic traffic prioritization delivers seamless performance for your applications

Add industry-leading 11AC speed and coverage to your connected home, ensuring that all your devices get the seamless performance they deserve.

AC SmartBeam

AC SmartBeam — AC SmartBeam recognizes your home's devices to focus Wi-Fi where you need it most while blocking
              out sources of wireless interference

Wired Performance — Gigabit Ethernet delivers wired performance that is 10x faster than traditional Fast Ethernet

Wi-Fi Range — Dramatically improve the wireless range in your home for true wall-to-wall, whole-home connectivity

Compatibility — 11AC is backward compatible with older Wi-Fi, ensuring that your current devices do not become
              obsolete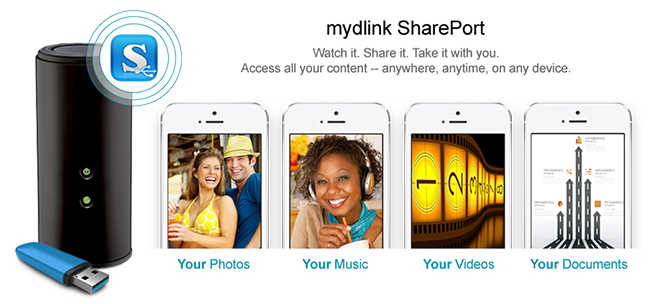 | | |
| --- | --- |
| |   |

D-Link's 11AC routers are app-enabled, giving you the ability to quickly and easily set up your router, monitor and control your home network, or stream and share files and media from virtually any connected USB drive.*

 

   mydlink SharePort App

  

mydlink Services

*requires USB SharePort on router

   mydlink SharePort App

Stream and share your videos, music and photos to your Smartphone or Tablet at home or anywhere. Just download the free app and connect a USB storage device to your mydlink SharePort™-enabled D-Link router.

  mydlink Lite App

Quickly and easily manage your Cloud Router and view your live Cloud Camera feeds from anywhere with an Internet connection.

Learn more.

QRS (Quick Router Setup) Mobile App 


Set up your home network from your Apple or Android device with the free QRS Mobile app. Avoid the setup hassles of "conventional" routers. 

  

 

Optimized for NVIDIA GameStream™

Your router is about to have a lot more fun. That's because it can now stream all your favorite PC games to the NVIDIA® SHIELD™ portable to play anywhere in the house using fast, ultra-reliable NVIDIA GameStream™ technology. The DIR-860L delivers lag-free, high-performance game streaming from GeForce® GTX™-powered PCs or NVIDIA GRID™ cloud gaming systems. For more information, visit www.nvidia.com/gamestream. 

Quickly and easily establish a fast, secure home network that will have you browsing, streaming, and watching in minutes.  
WPS Push Button — Connect to your secure, wireless network with a push of a button

Universal Plug and Play (UPnP) — Automatically establishes working configurations with other UPnP devices like 
              computers and printers

Get the wireless protection your home network needs with D-Link's assortment of advanced security features.

 

Parental Controls — Grant, limit, and block access to certain websites and applications

Guest Network — Separate and secure network for guest users

IPv6 — Future proofs your network for the next-generation of Wi-Fi devices

 
Stay informed with interesting and relevant articles, guides and blogs on D-Link's Learning Center.

You use it nearly every day on your notebook Mac, PC or smartphone but have you ever really thought about what Wi-Fi is and how it got started? Follow along with us to see where Wi-Fi has been and where it's going.

Articles


What is Wi-Fi?
What 11AC Wi-Fi?
Top Three Reasons to Upgrade Your Router

Guides
---
NVIDIA, the NVIDIA logo, GeForce, NVIDIA GameStream, and SHIELD are trademarks or registered trademarks of NVIDIA Corporation. All Rights Reserved. All other trademarks and copyrights are the property of their respective owners.