D-Link Partners with Paw Prints in the Sand Animal Rescue 
D-Link to Donate Wi-Fi Cameras to New Pet Owners to Help Promote Pet Adoption and Responsible Pet Ownership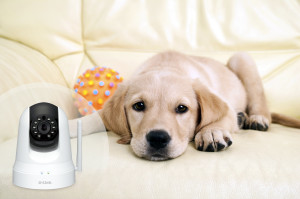 FOUNTAIN VALLEY, Calif. and NEWPORT BEACH, Calif. – March 10, 2015 – D-Link today announced a partnership with Paw Prints in the Sand Animal Rescue, Inc. (PPITS), a non-profit organization dedicated to rescuing, rehabilitating and rehoming abused, abandoned, neglected, and stray companion animals. D-Link will donate Pan & Tilt Wi-Fi Cameras to new pet owners who adopt from Paw Prints in the Sand as part of a larger effort to advocate adopting rescue pets.
The relationship will promote responsible pet ownership and pet retention. Additionally, D-Link will develop a series of training and animal behavioral videos in conjunction with Paw Prints in the Sand to help pet owners have happier pets and homes. 
"Over 2.7 million companion animals are put down in our nation's shelter system every year. It is our goal to reduce those numbers," said Kelly Reeves, president and co-founder, Paw Prints in the Sand. "A good majority of those pets were surrendered to the shelter by their owners because the owners simply didn't understand the pet's basic needs. We are thrilled to partner with D-Link to help promote adopting shelter pets and pet retention, which will help reduce the number of pets euthanized daily."
D-Link® Wi-Fi cameras are an excellent tool to keep up with pets' activities while away, especially if folks have an in-home pet sitter or daily dog walker – or anyone who has access to their home. Users can view a secure, live feed of their home and pets from a smart phone or laptop from anywhere and enjoy the peace of mind of knowing their furry family members are safe.
"Paw Prints in the Sand is doing some truly amazing work to help animals in need," said Daniel Kelley, vice president of marketing, D-Link Systems, Inc. "We are happy to help such a great cause and keep animals out of the shelters or off the streets and in loving homes where they belong."
More about the Pan & Tilt Day/Night Wi-Fi Camera (DCS-5020L)
Pan & Tilt Function – Remotely pan and tilt live video and keep an eye on a larger area
Sound and Motion Detection – Enhanced email alerts based on sound and motion sensing technology
Wi-Fi Extender – Easily add more cameras or expand your home's wireless network
66o Horizontal Field of View – Keep an eye on more area
Night Vision – View up to 26 feet in complete darkness
Remote Viewing – No fees or monthly subscriptions to view on iPhone®, iPad® or Android® with mydlink® app or mydlink.com
About D-Link
D-Link is the global leader in connectivity for home, small business, mid- to large-sized enterprise environments, and service providers. An award-winning designer, developer, and manufacturer, D-Link implements and supports unified network solutions that integrate capabilities in switching, wireless, broadband, storage, IP Surveillance, and cloud-based network management. For more information visit us.dlink.com, or connect with D-Link on Facebook (www.facebook.com/dlink) and Twitter (www.twitter.com/dlink) or D-Link's blog (http://blog.dlink.com/).
 – MORE –
About Paw Prints in the Sand
Paw Prints in the Sand Animal Rescue, Inc. is a 501(c)(3) all- animal rescue organization dedicated to rescuing, rehoming and rehabilitating abused, abandoned, neglected and stray companion animals. Headquartered in Orange County, California, PPITS is an all-volunteer organization committed to placing animals in loving, responsible, committed forever homes. We conduct a comprehensive screening process, which includes taking considerable care in finding good matches and educating prospective adopters about the responsibilities and costs of bringing a pet into their homes and lives. For more information, to make a donation, or to foster or volunteer, please visit http://www.pawprintsinthesand.org. All Donations are 100% tax-deductible. You can also visit PPITS on Facebook and Instagram @ppitsreq and on Twitter @PPITSRescue.
# # #
D-Link, mydlink and the D-Link logo are trademarks or registered trademarks of D-Link Corporation or its subsidiaries. All other third-party marks mentioned herein may be trademarks of their respective owners. Copyright © 2015 D-Link. All Rights Reserved.   
Use of audio or video equipment for recording the image of a person without their knowledge and consent is prohibited in certain states or jurisdictions. The end-user assumes all liability for compliance with applicable state, local and federal laws.